APPLICATION FOR AUTOMATIC INSTALLATION OF CC SIGNET CERTIFICATE (only Windows systems)
The application modifies (deletes/adds) entries in the system registers, modifies (deletes/adds) certificates in the system stores and adds a shortcut to the service dedicated to the Secure Mail service.
The application can be launched directly from this page by clicking on the link below: Automatic installation of Signet certificates
On the right-hand side of the browser, you will see a Warning message informing you of a danger associated with the certinst.exe file.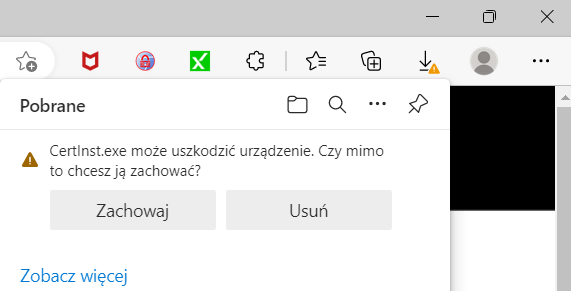 Press the Save button to download the software.
Navigate to the folder where you downloaded the file and run it, you will see a window for a few seconds informing you of the progress of the certificate update

Depending on the user's privilege level on the computer, Signet certificates will be added to the user's or computer's certificate store.
Other operating systems
If you are using an operating system other than Windows, install the new certificate of authority downloaded from https://www.signet.pl/repozytorium/ca_tp_pem_sha256_2027.crt according to the instructions for your system.